Simply saying the words "my father" in the opening sentence of this story gives away the happy ending,…
…but this is the risk I have to take when telling you of the courtship of my mother by the WWII Navy Lieutenant who would form half of me, and my mother's father—the Air force Colonel who believed (unreasonably) that no man was good enough for his daughter, Janet. That Janet had some say in who she married was true, but when facing my grandfather, Fred Fish, even my strong-willed mother was surely put to the test.
Gramp, as I called him, was a Vermonter who had flown a biplane in the First World War. Six foot three, a giant by the standards of the day, he had sandy brown hair, a long soulful face, and eyes and wit that sealed the deal for the young ladies of France (and later, occupied Germany). Gramp was known as a ladies man. As such, he knew all about men and what they were capable of, and by the time he'd matured in life and rejoined the air force to fight the Nazis, his faith in MANkind was at a low point when he learned that Janet and the Lieutenant were serious.
A deep, mysterious lake would decide my father and mother's fate.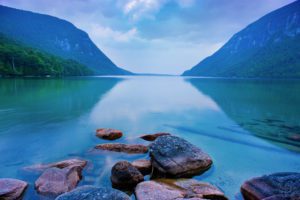 Both Bill and Fred were on leave at Fred's farm in the Northeast Kingdom of Vermont, staying at the family farmhouse on the shores of Lake Willoughby—a place of such rugged beauty it deserves description as a central character in this tale.
Five miles long and one mile wide, Lake Willoughby was formed when a glacier crawled down from Canada and gouged out a hole five miles long and one mile wide, forcing a large mountain to give way in its center, tossing massive boulders aside in slow motion, and leaving behind a deep blue green lake with sheer rock cliffs on either side. Eagles and hawks and ravens and seagulls and all manner of birds swoop and circle around the cliffs and lake. When storms come in, the cliffs funnel the dark clouds and push them like more boulders towards the line of red and white cabins that dot the shore. The surface of the lake is sometimes flat as glass, but more often it is a tumult of tall waves and white caps, like something you'd see and hear at the ocean.
The lake is deep. Very deep. For the glacier was intent on plowing up all in its path, its roots burrowing down to yank every possible scrap of soil and rock up and out, up and out of the way. And when the thaw came, the water—bone cold to this day—filled the void.
A depth that conceals many secrets.
On a sunny day, you can look down into the depths and follow the light rays for a few feet, knowing that beyond your sight is a blackness that chooses not to give up its secrets. Hundreds of feet down it goes, to a place where trout the size of small horses lumber about in peace. Once in a while an ice fisherman in February hauls up some monster. You can see the Polaroids at the local store. The fish are so big it's like they've been photoshopped. The fishermen clutch their fish's mammoth body and smile at the camera, part happy and part wondering in the back of their minds if they are holding something prehistoric; not really a trout at all; something that would eat them if they hadn't stuck their hook in first.
Travel across the lake down between the mountains and no matter what kind of boat you're in, you can feel the deepness of the lake. It's like gravity. A force that is always there. We are guests on this part of the lake, skimming across its surface only by invitation of the deep, a temporary and frivolous guest.
And it was here, down between the mountains, that Bill took Janet one day in August of 1943. He' borrowed the forty horsepower outboard motor from my grandfather and attached it to the small wooden rowboat.
In my grandfather's eyes, no man was good enough for Janet.
Fred Fish had been cool to him all weekend, this young fellow who thought he was going to marry Janet. Yes, it's true my father was also tall – six foot three. Yes, he was a fine looking young fellow who served with the Navy. Yes, the young man had seen combat at the battle of Okinawa.
None of that meant he deserved Janet. Not by a long shot. Bill had graduated from Tufts, a good school, yes, but Bill had quit the football team in his freshman year. What kind of man EVER quits a football team? Not a good sign. No, not good at all.
Janet was surely a fine catch.
Five foot ten, with long brown hair and brown eyes and an oval face that lit up when she smiled. She was smart. She had a wit that could chisel granite. "Fun" didn't even begin to capture the sheer delight she showered all around her like rain glowing white in the sun. No wonder Bill fell for her. No wonder Fred was not ready to give her up.
Bill and Janet puttered out from the beach and set a course for the southern end of the lake, the part faced by the twin rock cliffs.
The deep part.
It was a lovely summer day, but the waves were picking up with the increasing wind as they hummed closer to the mountains. Going against the waves and wind, it took a good forty-five minutes to get close to the cliffs. Nobody else was there, so who knows what they did when they arrived there; maybe a kiss, far from Fred Fish's disapproving eye. For Bill, this was not only a time to be with his true love, it was time away from the war. A little bit of peace out there on Lake Willoughby, far from the kamikaze horror.
He kissed her, she kissed him.
They gazed into each other's eyes. And maybe at that moment Bill was reaching into his jacket pocket to take out the box with the ring; he was just about to shape his mouth into the words, "Will you…"
…when suddenly, for no reason aside from maybe the tossing of the boat in the rising waves, the outboard motor fell off the back of the boat and disappeared beneath the waves.
Bill stared in shock at the place where the motor used to be. Janet covered her mouth with her hand, "Oh no!"
"Damn," Bill said.
The entire time I ever knew him, this was the toughest swear in his vocabulary. But whenever he said it, he poured so much anguish, anger and disgust into the word it became condensed in the extreme.
Hope. Sunk.
Fred Fish's prized forty horsepower outboard was gone. And with it, Bill knew, any chance of Fred allowing his lovely daughter Janet to have anything to do with him. His marriage plans, you could say, were sunk. And not in just any piece of water. That motor had gone down in the deep part of Lake Willoughby, a place that laughs at you for trying to understand it.
Second Lieutenant Bill Page grabbed the oars. But before the first pull, he took note of the spot they were bobbing in, and jotted in his memory the longitude and latitude of where the motor had dragged his hopes to the bottom of Lake Willoughby.
Bill rowed for an hour to get back.
He said not a word, his jaw set, his eyes fiercely intent. Janet cried.
Fred Fish was waiting on the shore. The fact that Bill was rowing, and the motor was no longer on the back of the boat, was all Fred needed to know. He stood there, glowering, as my tearful mother went to him with no words to say.
Bill was gone for ten minutes. He returned with a large bundle of rope and a grappling hook. And with only a dark look at my silently judging grandfather, pushed off from shore.
What happened next would decide Janet and Bill's fate. And I would not be a grandfather today if the outcome had been any different.
You know, of course, because I gave it all away in the first sentence, that Bill Page rowed through high waves down between the mountains, and under the stare of the rocky cliffs he took note of his position, and lowered that grappling hook down, down, down, hundreds of feet of rope down, his entire future life dangling there, the whole life ahead where he'd have five sons and many grandchildren, all of it so tenuous as to be completely hopeless to anyone but a man who loved Janet Fish so much he could not give up, and he got that grappling hook around that motor and hauled it up, the sun starting to lower and the wind rising higher and higher, and he hauled the motor like a giant fish into the bottom of the boat, and he rowed the four miles back with clenched teeth, and just as the dusk came to the sky with red and yellow streaks across the clouds he pulled the boat up onto the shore, exhausted, and went and found Janet and her father at the farmhouse.
When my father, grinning now, explained what he had done, Fred Fish slapped his knee and laughed uproariously.
And then Gramp did something he'd never done before to any man who'd ever come near his daughter, the women who would soon become Janet Fish Page. He smiled, and patted dad warmly on the back. "Well done," he said, "Well done."