It starts with a story.
The year was 1975. The place was Lexington, Massachusetts, a big rambling brown-shingled Victorian that was home to the 5 Page brothers — all of us big and rambling in our own way, 6 foot 6 on average.
I was the youngest. When I was little my brothers were the most entertaining thing in the world to me. We'd play murderous games of chess or Monopoly. Fashion dams in the backyard with mud and blow them up with M80 firecrackers. And have loud overlapping conversations at dinner, with mom refereeing as she doled out endless servings of baked ziti from a pot the size of an oil tanker.
Then, one by one, my brothers left for college. By degrees the house lost its boisterous, vibrant and insanely fun atmosphere, replaced by silence.
That Christmas of '75 all my brothers had been gone, and I—a gangly teenager—missed them as if they'd been appendages removed. Calvin, Charlie, Nick and John. How could so much energy simply vanish?
By Christmas eve they had returned, most of them sporting beards. There was an ice storm overnight, and in the morning bright sunshine lit up the ice-crusted branches with an electric brilliance. We'd been warned that this would be an extremely lean year financially, yet many presents where stacked under the tree. My dad was a senior executive with Polaroid, but paying college tuition for multiple sons simultaneously had seriously strained the family bank account.
So, amidst the joyful, jocular cacophony, the shoulder hitting, the verbal jousts of hilarious wit, we band of brothers opened our presents.
And do you know what was inside every one? Absolutely nothing. My parents had gone to the trouble of wrapping up 5 lovely boxes and marking each with a Christmas tag, and inside each was a lone index card taped to the bottom with a note written in dad's block letter handwriting. Mine read "TED, WE OWE YOU ONE NEW GAME OF MONOPOLY. My brothers all had similar I.O.U's. This became engrained in my memory as the I.O.U. Christmas.
Here's the thing: this was my absolute favorite all-time Christmas. No contest. I was with my brothers again, at last. The silence had been banished, the greatest show on Earth—5 brothers juggling laughter and stories and eating and throwing things—had returned to town, and I was happy beyond measure.
So, you may guess what this granddad wants for Christmas in 2021.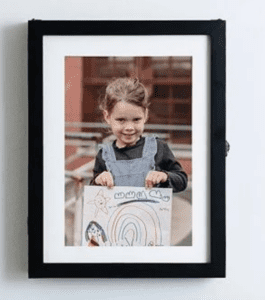 NOT this magnifying lamp for reading. (My eyes are just fine, thank you).

NOT this mug. Seriously.
Truthfully I don't want any THING nearly as much as I want to be with all my grandchildren at once. Fortunately, that is in fact what I'll be getting.
There will be mayhem. The eldest will give the younger ones piggyback rides all around the house. The newest will walk, haltingly, from table to table and do her best to knock whatever she can grasp onto the floor. We will sing Christmas Carols. We will gather around the dinner table, with turkey and gravy and stuffing and all the other very yummiest things. The grandkids will tell stories and jokes, one upping each other, and taking great delight in each others' company, and in ours. They will be the newest and best greatest show on Earth, and the entirety of my gift wishes all wrapped into one.
Merry Christmas!
Author's note: In actually I'm not a total Scrooge when it comes to giving and receiving presents, but as I related in New York Magazine's Strategist blog I think the best gifts for grandparents entail experiences we can share with our grandkids. We already have a lot of things.